We are excited to be able to bring the latest generation of Kubota 8 tonne mini excavator to our customers!
Kubota has launched its latest machine, the KX085-5, which replaces the highly acclaimed KX080-4a2. Packed with advanced features, improved ergonomics, and first class performance enhancements, the KX085-5 sets even higher standards for the 8-9 tonne excavator class.
Let's take a look at what the KX085-5 has to offer and how its improvements will make your job easier.
Unparalleled Operator Comfort:
The KX085-5 prioritises operator comfort, and Kubota have gone above and beyond to make this excavator a pleasure to operate. With a wider cab floor that offers an additional 75mm of space, there is more freedom of movement, reducing fatigue during long work hours. The redesigned track pedals reduce strain on the legs, ensuring optimal comfort while tracking. To top it off, the double adjustable suspension seat comes as standard, allowing you to find your perfect position for increased productivity.
Enhanced Airflow and Ergonomics:
Despite the KX080-4a2 already having great airflow, the KX085-5 now features three additional air vents, bringing the total to eight, resulting in a 20% increase in airflow. This thoughtful enhancement significantly improves operator comfort, ensuring a better working environment even on those increasingly warmer summer days. What's more, the new 7" full-colour display and the ergonomically positioned switch panel offer intuitive control and easy access to vital information, which will further streamline your operations.
Unmatched Performance:
The Kubota KX085-5 doesn't just excel in operator comfort; it delivers exceptional performance as well. The refined slew operation provides smoother and more precise control, making any task a breeze. With the KX085-5, you can tackle demanding projects with ease and efficiency.
Kubota Tracking System:
As is now standard on all machines 5 tonne and upwards; every digger comes with the Kubota Tracking System. The KTS helps you be in control of your machine and fleet no matter where you are or the time of day. It is a smart and easy way to get real-time information on performance as well as improve security and help plan maintenance. A cost effective way to help you maximise productivity, the KTS is another brilliant feature on the KX085-5 as standard.
Intelligent Features and Safety Upgrades:
Kubota's commitment to innovation is evident in the intelligent features integrated into the KX085-5. The ability to program an engine shutdown adds convenience and helps optimise your fuel consumption, contributing to a more sustainable work environment whilst saving you money.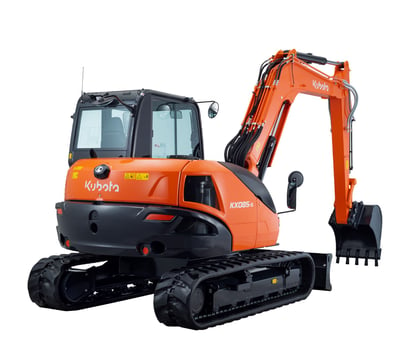 The integrated rear camera ensures enhanced visibility and the feed comes straight through to your 7" full-colour display, so no need for an additional screen in the cab. Additionally, the rear camera is located inside the Kubota badge on the back of the machine to ensure it is protected and cannot be easily knocked off.
The front and rear LED lights, are also protected against impacts, and provide superior brightness and safety. Furthermore, the machine now features follow-me-home lights, which will light your path back to wherever you need to go. You can also dictate how long the lights stay on depending on where you are going. This added safety feature gives you peace of mind when leaving your excavator on darker winter evenings.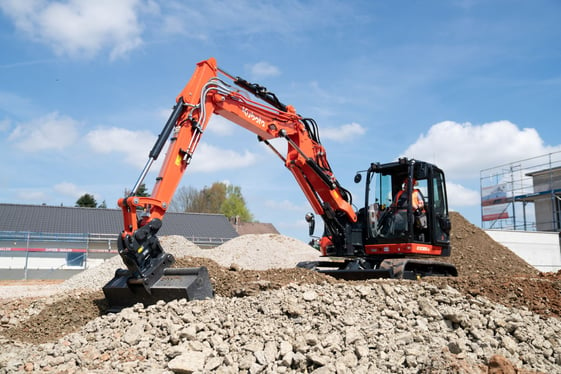 Another key feature that highlights Kubota's dedication to providing premium excavators is the phone holder. The KX085-5 has a solid, rubberised phone holder that ensures your phone is safe and secure whilst you are using the machine. Also, there is a USB point so you can plug in your device easily.
The Market-leader that simply got better
The Kubota KX080-4a2 was already an exceptional machine and has proven to be very popular across the mini excavator industry. The brand new KX085-5 simply demonstrates Kubota's commitment to ensuring their products are the best. Their focus on the finer details make this machine so impressive and having been tried and tested, we at BTE are very excited to bring the KX085-5 to you.