Welcome to the Autumn edition of the Kubota Aftersales Newsletter – for all things Kubota parts and service, brought to you by BTE Plant Sales.
In this edition, you can find the latest Kubota aftersales news and offers.
NEWSLETTER HIGHLIGHTS:
Simple Kubota Check Series:
Check your engine oil before starting your Kubota machine. Park the machine on a level surface and allow it to stand for 5 minutes before checking.
Remove the dipstick, wipe clean and reinsert into the engine. Remove the dipstick again and check. The oil level should be between the upper and
lower marks.
Add the correct engine oil if required until oil is between the marks.
At the same time, check there are no fluid leaks around your engine. Contact your local Kubota dealer if any fluid leaks are found.
Ensure Engine oil is changed frequently, either by hour count, as per your Kubota operators manually, or annually for low-hour users.
Dirt and carbon can build up in your engine oil as a result of internal combustion. Regular engine oil changes ensure these deposits are removed, allowing a more efficient running of the engine, along with improved lubrication and cooling of the combustion chambers.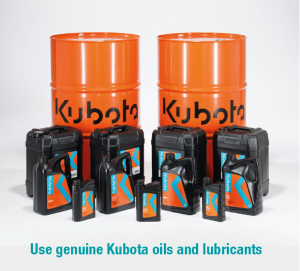 Minimise your downtime with 5 years Kubota Care warranty as standard. Kubota Aftersales at it's best!
KEY BENEFITS
No excess charge for warranty claims.
Expert service provided by expert Kubota-trained Technicians from your local Kubota dealer
Only genuine Kubota parts are fitted to ensure optimum performance.
Enhanced resale value- warranty is fully transferable to a new owner