There may be a slight chill in the air but summer is definitely on its way.
Now is the best time to start thinking about those summer jobs and the type of equipment you may need. To help get you started we have put together BTE's Top 5 Products for Summer 2022. Whether you are working on a large site or in a narrow back garden, these products are all versatile and reliable meaning you can get the job done.
1. The Merlo Cingo M12.3EVO Handler 400
If you are looking for versatility, this is it! The Merlo Cingo track carrier range offers a great deal of flexibility and their array of attachments cover many landscaping and construction jobs. We love the Cingo M12.3EVO Handler 400 which comes with floating forks and is an ideal, super compact telehandler for all different sites. The Handler attachment consists of a telescopic boom with a lifting capacity of 400kg and 3.4m maximum height. Other attachments are also available including bucket, grabs, log gripper and hedge cutters to name a few.
This multifunctional Cingo comes with a 21hp Kubota diesel engine and due to the high attachment angle of the tracks, the machine can overcome any obstacle, further adding to its versatility! Health and safety is always at the forefront of the Merlo machines and it is no different for the Cingo. Vibrations are reduced for the operator by the platform's shock-absorbing system enhancing driver comfort.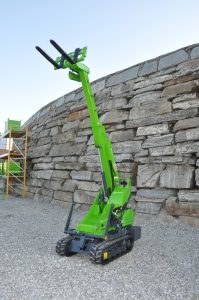 https://merlo.co.uk/range/m12-3-evo-handler-400/
2. BOMAG BT 60e tamper
BOMAG have developed a battery-powered tamper which is gentle on both the environment and the operator – a win win in our eyes! With a 70mm stroke and an advance rate of 20m/min it still packs a punch and bears the Made in Germany quality hallmark. With carbon and nitrogen emissions becoming ever more strict this machine is a great investment and perfect for those hot summer days!
It has the same robust design as the BT 60 with the motor fully encased for extra protection. It is also a versatile bit of kit and can be used for a range of applications including inside buildings, landscaping, foundations and drainage systems to name a few. The e-Performance technology has built on decades of experience and innovation by BOMAG as they continue to be leaders in compaction.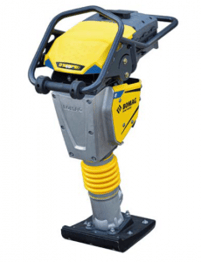 https://www.bomag.com/ww-en/machinery/categories/light-equipment/bt-60-e-54145/
3. Atlas Copco E-Air H250 VSD compressor
Whilst we are thinking about being more green, Atlas Copco have a range of electric compressors and we could not be more excited! Introducing the E-Air H250 VSD compressor – a two-tool, electric compressor. Ideal for so many applications including working on HS2, inside warehouses and it is powerful enough to clear food processing lines in large factories, another super versatile bit of equipment. Also ideal for low emission zones and has a very low noise level at just 65 Db(A)! There are so many good reasons to add this compressor to your fleet – let alone it minimizing operating costs.
In addition to its 5 star performance, the E-Air VSD range have been built with Atlas Copco's iconic HardHat hood meaning it has the same robustness as its diesel counterparts. The U-Flex design of the hood makes accessing service points easy and the XC2003 controller is simple to use – Atlas Copco truly have thought of every aspect.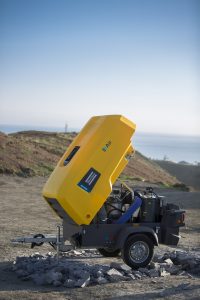 https://www.atlascopco.com/en-uk/construction-equipment/products/mobile-air-compressors/electric-compressor/electric-air-compressor-variable-speed-drive-e-air-h250-vsd
4. Thwaites 1 Ton Hi-Tip dumper
The perfect addition to any fleet – the Thwaites 1 ton hi-tip dumper is one of the best on the market. Ideal for smaller sites and garden work the 1 ton dumper is compact yet mighty. A maximum safe load of 1000kg and an unladen weight of 1295kg. This machine is a firm favorite with customers and it is easy to see why. It comes with ROPS bar, amber and green beacon fitted as standard. You can also add road lights if you wish to work on into those cool summer evenings. We also offer to road register and tax your machine at an extra cost, we do the work so you do not have to.
The Thwaites 1 ton dumper has been designed with the operator and servicing in mind. It has a three-sided lockable cover ensuring easy access from the ground to all engine service points.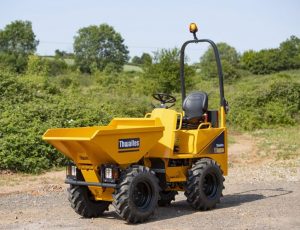 https://bteplantsales.com/products/1-tonne-hi-tip-hydrostatic/
5. Kubota U10-5 mini-excavator
The latest Kubota mini-excavator, the U10-5, has not disappointed. Kubota have celebrated being number 1 in the mini-excavator market for 25 consecutive years and the latest micros have been another big hit. The U10-5 is ultra-compact and zero tail swing, perfect for narrow passages into back gardens and tracking through doorways. Ideal for an array of landscaping jobs, this is the perfect excavator for summer! It has a dig depth of 1800mm and the control levers have been moved to the sides of the seat for a better and more relaxed operator working posture and improved visibility.
As per all of the new Kubota mini-excavators they have a highly trustworthy Kubota Stage V engine. The engine cover had a tilt-up operation with exposes most of the engine, giving easier access when servicing your machine. Kubota have thought of every detail and have also added their top of the range Anti-Theft System.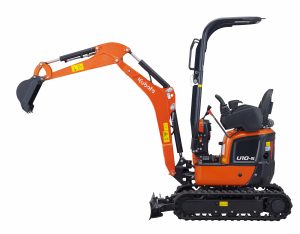 https://bteplantsales.com/products/u10-5/
If you would like more information on any of these products then get in touch with us today. Drop us an email, info@bteplantsales.com or give us a call, 01530 242782.